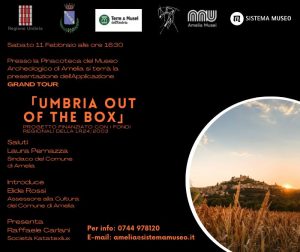 Sabato 11 febbraio 2023 – ore 16:30
Pinacoteca del Museo Archeologico
Presentazione "Umbria Out of the box".
L'evento presenterà l'applicazione turistica per smartphone, finanziata con i contribuiti della Regione Umbria (Legge 24/2003), nell'ambito della rete Terre&Musei dell'Umbria. Il progetto è stato realizzato dalla società Katatexilux di Amelia.
Lo scopo del progetto è quella di dotare ogni comune della rete "Terre e Musei dell'Umbria" di un'applicazione per smartphone che possa guidare autonomamente i visitatori alla scoperta dei luoghi e della storia dei borghi. Le visite guidate entreranno in una piattaforma denominata "Grand Tour".
Questi suggestivi tour virtuali permetteranno a tutti i fruitori del nostro territorio di conoscere ed ammirare le bellezze delle città umbre attraverso la storia, le tradizioni e l'arte.
Con questa tecnologia sarà inoltre possibile raggiungere in modo virtuale anche alcuni luoghi inaccessibili e solitamente chiusi al pubblico.
"Umbria Out of the box" è attraente per ogni fascia di età: sfruttando la mappa la visita si trasforma in una vera e propria caccia al tesoro adatta ad ogni tipo di pubblico.